Reiki treatment sessions are one the most popular, recognized, and distinctive aspects of the system of Reiki.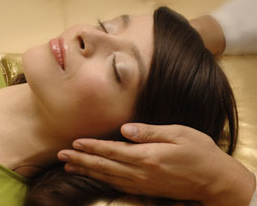 Reiki treatment sessions are uniquely helpful; rather than treating the issue or symptom alone, the session allows you to relax, restore balance, and promote a inner peace where the body and mind are supported to naturally heal on their own terms.
Sessions are typically one-hour long. During the session the client remains fully clothed as the practitioner goes through a Reiki treatment process as agreed to by the client prior to the treatment. Treatments will always respect modesty and personal privacy; if you have any concerns please notify your practitioner immediately.
Each treatment is unique, and is adjusted to fit the needs of the client. The frequency of sessions are also tailor made for the client and their situation.
During treatment, clients may experience physical sensations such as warmth or tingling.  Some people relax very deeply and may actually fall asleep during a treatment, both of which are are hallmarks of natural healing. Following a treatment, people often report feeling relaxed, peaceful, less tense, and more wakeful.
Anecdotal benefits of Reiki treatment sessions include:
Improved digestion
Improved sleep
Improved athletic recovery rate
Reduced anxiety
Reduced side effects from radiation
Reduced side effects from chemotherapy
Stronger mental discipline
Reiki treatment sessions are not limited to in-person meetings. Distance healing sessions are also available with slight adjustments in logistics. The benefits of in-person sessions and distance healing sessions are the same.
Disclaimer: Reiki is not a substitute for medical care. Professional Reiki practitioners do not:
diagnose conditions
prescribe medicine
interfere with the medical treatment of a licensed health care professional.
When used as an adjunct rather than a substitute, Reiki sessions have been shown to regularly make a difference in a variety of ways both physically and mentally. It is recommended that you see a licensed health care professional or specialist for any condition, physical or psychological, that you may have.